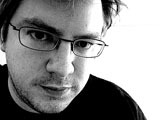 I currently live just outside of Boston, Massachusetts with my wife, but am originally from Perth, Western Australia.
I have been developing open source software and working with web technologies since 1993 and have been using Python since 1998. For the last six years, I have been working with Django. I am the creator and lead developer of Pinax.
When not working with software startups, websites and open source software, I'm an aspiring filmmaker, composer and music theorist, mathematician and linguist.
I am currently on leave from a PhD in linguistics at the University of Essex where I was researching the inflectional morphology of Ancient Greek.
I am a technologist, an entrepreneur, a scholar and an artist.
I am a journeyman of some.
Recent Posts
Posted Feb. 12, 2006; Updated June 21, 2012
Posted Jan. 27, 2006; Updated June 21, 2012
Posted March 10, 2007; Updated June 17, 2012
Posted Feb. 14, 2007; Updated June 2, 2012
Posted Aug. 22, 2007; Updated June 2, 2012
Posted Sept. 23, 2008; Updated Jan. 1, 2012
Posted March 30, 2007; Updated Nov. 25, 2011
Posted Feb. 17, 2007; Updated Nov. 23, 2011